It took me only a few days on the outskirts of the culinary world to see the divide between cuisine chefs and patisserie chefs.
Were I Mike TV'd into a Disney cartoon circa 1985, a cuisine chef would appear (Shazam!) over one shoulder, a cowboy culinary devil, mixing and matching, salting and slicing.
Over the other shoulder, a precise pastry angle would systematically reveal himself (culinary gender bias in France it appears has rubbed off on my reflexive pronouns) willing me with discipline and form to the sweeter side.
Me, I've always felt a penchant for chaps over halos so my path was set before I even enrolled in the Diplome de Cuisine.
After graduating last month, I now have my training chaps and must say, they feel pretty good (I have to sex-up the checked safety trousers and rubber clogs some how!).
My inner culinary cowboy comes out for a ride every day in the kitchen at
Le Chateaubriand
here in Paris.
Big stable for such a young pony!
Me in the kitchen on my first day
Inaki (chef) and Laurent (sous chef) run the kitchen here is a truly crazy way.
This is crazy in a good way.
Or a French way.
Or a genius way.
Genius to a soundtrack.
I am now well versed on all genres of French electro, Euro indie and hardcore bi-coastal rap. I can recite 25 ways not to get smacked up…apparently a lesson every thirty-year old female should already know. Thank you 2PAC…cringe.
I'm still not entirely convinced young sleep-deprived men with knives should be on such an aggressive music diet.
It's reminiscent of awkward male teen years spent behind a bedroom door sporting a skull and cross bone 'Do Not Enter' sign.
But I think I might be showing my age and employment history there (the closet thing to a soundtrack my old office ever had was the coral sounds of Windows XP opening at 9am each morning). Back to the genius and out of the drive-by.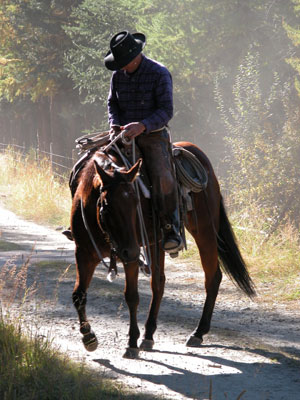 My Chef, Inaki, in the kitchen at Chateaubriand
We don't get yelled at.
We don't 'Oui Chef!' 'No Chef!' with military precision.
We (myself excluded) don't blink when Baz Lurman walks into the open kitchen and starts bowing to the night's culinary performance.
We (again, myself excluded) don't mind when 3 Star Michelin chefs 'borrow' ideas with a surreptitious scribble in the dining room.
Chateaubriand is the opposite of every stereotype surrounding a restaurant kitchen. Genius.
The Chef as Artist Vision best viewed through rose coloured glasses
I have always had a kind of romantic vision of The Chef as Artist.
I envisage a truly creative chef would work a little like
Picasso paints a free mural
.
Turns out I wasn't entirely wrong…or entirely right either.
At Chateaubriand we have a new menu every day, working and adapting seasonal produce with an ever-rotating store and cool room.
Inaki and Laurant 'workshop' ideas with the kitchen each night, but it's as much wisdom and knowledge as it is flair and pant seat flying. Sure, we have enough squid left for another entrée service tomorrow, but pickles when? Ink who? Cocoa how? Mahleb what?
Pickles, Beets and Beef. No rose tinted glasses necessary.
It seems the reference section has invaded the romance section.
The reference library of flavours, textures and ideas these guys store somewhere between their memories and taste buds.
Of course cocoa with game, Mahleb with sweet beet, squid ink with tapioca. Of course! Quick, I better write this down. I can't lie, it's intimidating.
But mostly exciting and I hate to indulge in a 'food dream' cliché, inspiring.
Whilst painfully brunoising Granny Smiths to infuse with celery juice (a fresh sauce for seared beef when mixed with yuzu and olive oil) I keep in mind the prize will be learning that tart grapefruit gel loves dancing with salty salsify crisps and buckwheat ice cream.
File under D for Dessert.
I would like to thank Niki Segnit for her back-up in the reference isle over the past few weeks. It appears Niki has performed some sort of non-invasive cranial surgery on the culinary world and published The Flavour Thesaurus (Bloomsbury, 2010).
Her book takes flavours from the broad (Marine, Sulphurous, Fresh Fruity) to the specific (Washed-Rind Cheese, Liver, Caviar) and sets out flavour pairings, recipes and anecdotes. Her aim, a cathartic attempt to reduce her own dependence on recipes and cook more like an educated kitchen cowboy.
There is a lot in here my mouth and mind is already familiar with, but I'm a nerd at heart and if there is a why or a how whisky soaked pineapple tastes so perfect with salty hot tiny grilled shrimp in their shells, I want to know about it!
Oh…and eat about it while I'm reading! It feels a little like reading Shakespeare with Cliffs Notes, but while I'm working, tasting and filing flavours in the kitchen, I'll be sure to hide the cover of The Flavour Thesaurus behind a copy of Renegade Chef and randomly shout out 'Westside 4 Life'!